"In higher education today, faculty are asked to do more and more, and we only have so many hours in the day. Tools like Hypothesis can help us to build that community and learning environment for students without the burden of excessive work on the instructors' part. I think there's some really cool potential to use it in all sorts of disciplines too – we've used it for readings but it's not limited to that!" – Katherine Gaffney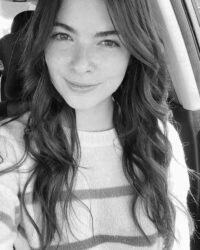 "We're learning how to read a text deeply and take that knowledge and make further connections. It was a great time, actually; it was so fun to read." –Katie McKenzie
What first drew you to social annotation?
[Katherine]
I find there is something so unique about having students interact so closely with a text. I also love using it for my assignment sheets — it really helps students better understand assignment expectations.
[Katie]
I originally used it for students to interact with my syllabus because students often, especially freshmen, feel overwhelmed by the syllabus. Social annotation provided a safe space for them to dig into this new document that they are not always familiar with.
How does Hypothesis work in different classroom settings — fully online, in-person, hybrid?
[Katherine]
This is my first time teaching fully asynchronously online. I was really searching for a way to foster collaborative engagement with one another. The thing that I didn't know that Hypothesis would do, until deeply incorporating it into my class, is the way it de-centers [me] as an instructor. But the benefit I didn't expect is the way it empowers students to facilitate their mutual learning. So rather than a top-down power-structure of learning, it becomes very equitable: across students, learning is facilitated by students, not just by me as the instructor at the helm.
[Katie]
My class is in person and we do a lot of work together face-to-face, so we do get that social engagement. Hypothesis has been super-helpful in teasing out more information and points from students. I've noticed that students are more comfortable writing out their ideas online than expressing them in the classroom where it's nerve-wracking to speak up in class. Alternatively, when we do group work in our in-person courses, I've seen them feel more comfortable speaking up once they've seen through social annotation that someone else is on the same page as them. A lot of my students have been posting directly onto the online documents and there has been an increase in engagement and sharing of ideas. They all work together, back and forth, ask questions of each other, and I think it's a really interesting space that I've never encountered before in a classroom, and I think it's really helpful for students to learn in.
Have you seen examples of how Hypothesis has supported equity?
[Katherine]
One of my classes focuses on Identity, and the three that I select for my students to engage with are gender, language and disability. Disability particularly is one that students aren't super familiar with or comfortable reading or talking about. Hypothesis creates more comfort with conversations on this topic and what I've found is that there is more engagement on topics such as this one that would not have been discussed as much prior to using Hypothesis. Social annotation also provides a place for students to experiment sharing their thoughts more broadly and find a place they feel comfortable in or push them beyond what they previously thought their limits were.
What have your students said about using social annotation?
[Katie]
I check in with my students about what assignments are working. As a class, they've told me that they really have enjoyed when I assign social annotation assignments to reading. They specifically like the versatility of the questions applied to each reading and how it helps them think more deeply about the content. They seem to have a lot of fun with it and enjoy interacting with one another.
[Katherine]
From what I've seen, I think students find it less of a chore and more of an exciting engagement interaction with their peers and an opportunity to get the reading done. I think that sense of multitasking in Hypothesis makes it feel more rewarding and that the time spent is more worthwhile. I can definitely see that my students really enjoy using the platform in this way.
Ready to give students a whole new way to engage with scholarly content? Fill out the form below to get started: