Hypothesis is pleased to offer the option to annotate YouTube videos as a new beta feature in our LMS app!
Creating an assignment with a YouTube video
First you will need to know the URL of the YouTube video you wish to annotate. The easiest way to find this URL is to click the Share button from the YouTube page and copy the link from the share window

Next, follow the usual steps to begin creating a new Hypothesis assignment in your LMS
In the Assignment Content window, click the YouTube button

Here you can paste the previously copied YouTube URL into the Select YouTube Video window and click the arrow icon to confirm your video is valid. You should see a green tick along with the video title confirming the link is correct and the video is not restricted

Click the Continue button to continue setting up your assignment as you would for other content types
For the best experience, we strongly recommend that Hypothesis YouTube assignments are configured to open in a new browser window/tab:

Canvas

Edit the assignment configuration. Under Submission Type tick the box to Load This Tool In A New Tab



D2L / Brightspace

Click the down arrow next to the assignment name, select Edit Properties in Place and tick the box to Open as External Resource



Moodle

Edit the assignment settings. Under General click to Show more…, then set the Launch container to New window



Blackboard

This configuration will need to be set by your Blackboard administrator
Invalid Video Types
Please not that the following types of YouTube videos are not currently able to be annotated using Hypothesis:
Age restricted

Not embeddable

No transcript available
Annotating the YouTube video
When the Hypothesis assignment launches, you will see the YouTube video, the transcript, and the Hypothesis sidebar.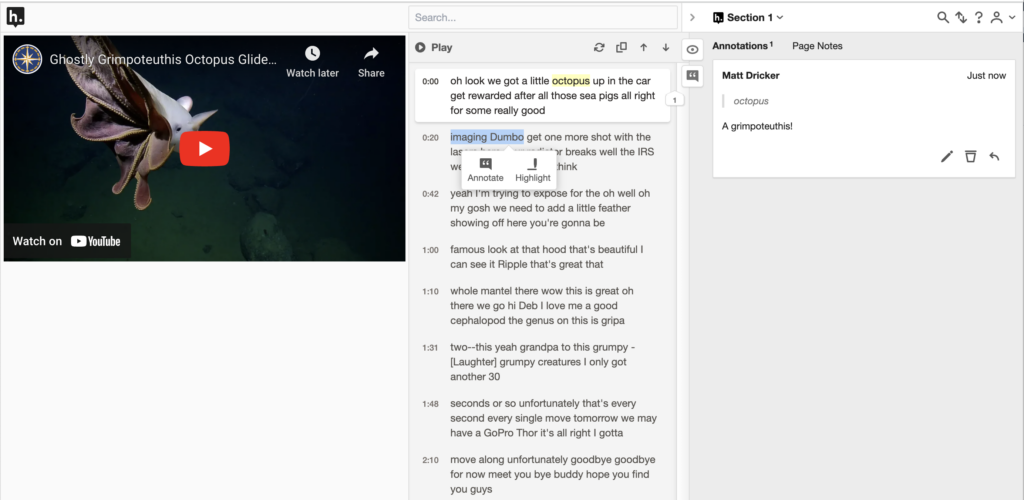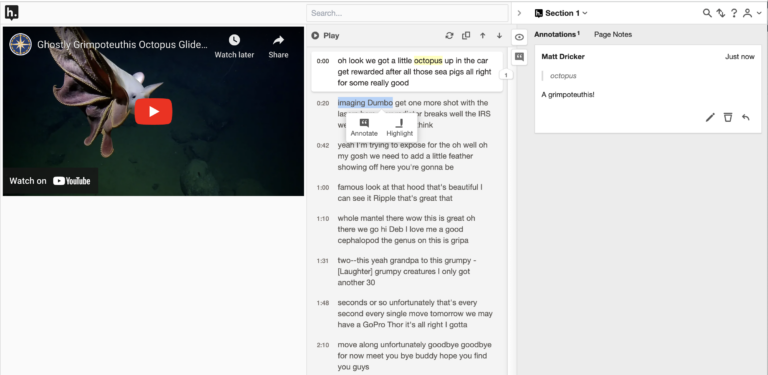 You can select text anywhere in the transcript to create a new annotation or highlight.
Additional features available in the YouTube transcript:
Play or Pause the video using the button at the top of the transcript. The transcript will autoscroll along as the video plays.

Search for text anywhere in the transcript

Re-sync the transcript with the video at any time by clicking the Sync Transcript icon
Copy the transcript by clicking the Copy Transcript icon

Click on a portion of the transcript to jump to that section of the video

Jump to the beginning or end of the transcript by clicking the Scroll to Top or Scroll to Bottom buttons respectively