You can export any notes to which you have access in the Hypothesis apps. That means any shared notes in Public, notes in private groups of which you're a member, and your own private annotations and highlights. This also applies to any LMS app groups of which you're a member.
Once you've exported notes you can import them into other groups in either app.
Exporting annotations
To export annotations from a particular web page, PDF, or LMS assignment, visit the document, activate Hypothesis, and select the group from which you wish to export annotations.
Once you've done this, press the Share button in the Hypothesis Sidebar.

You'll see options to Share, Export, and Import annotations. Choose "Export".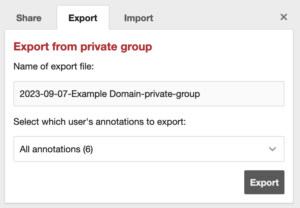 While the export tool will default to exporting only your own annotations (if you have any), you can select anyone's annotations to export by clicking on the dropdown menu. The number of annotations to be exported is listed in parentheses after the user's name.
Before exporting you can click and edit the name of the file you'll be saving. Once the file is named how you wish, click "Export". The file saved to your computer is stored in the JSON format. You can use it to import notes into other groups or save it for your own records.
Importing annotations
To import annotations from a JSON file saved to your computer, select the "Import" button under the Sharing menu.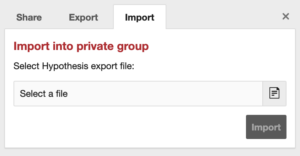 Click on "Choose File" and select the JSON file you wish to import. Once you've done so you will be able to select both your own and other users' annotations for import by clicking the dropdown menu. The number of annotations you'll import will appear next to the username of the user who created the annotations.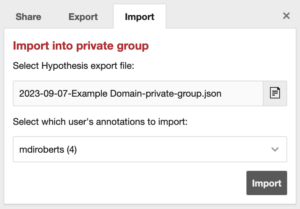 Click the "Import" button to import the annotations. Annotations originally created by a different user, but imported by you, will appear as your annotations in the group you import them into
Import messages
When you successfully import annotations you'll see a message telling you the number of annotations that were successfully imported.
If you attempt to import annotations that already exist in that group you'll receive an error message letting you know that the duplicates have been skipped.